RAISKUMS - KVEPENES MOUND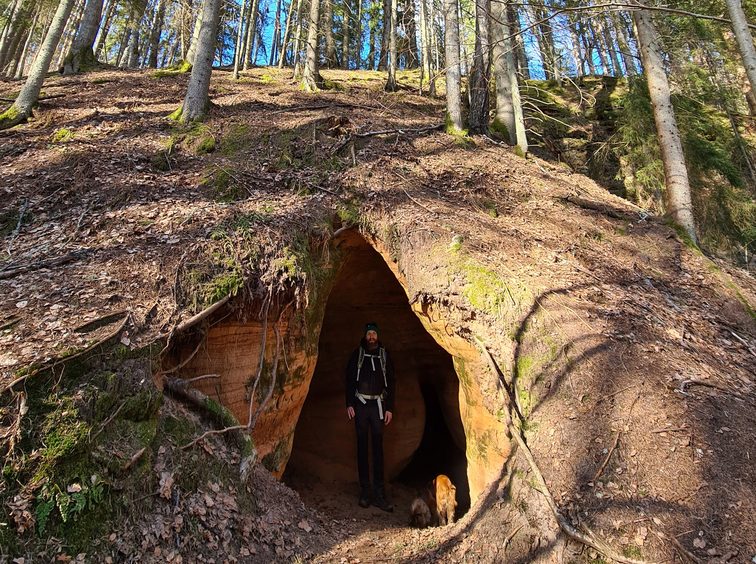 What awaits you?
Get ready for a long and solid hike, rich in several interesting and impressive sights. On the way, you will see several manors and various natural treasures, such as the Raiskuma lake, an impressive oak tree and caves in the valley of Gauja. Enjoy the beautiful sights of Vidzeme at any time of the year!
You will be on the road most of the day and there will be great places to enjoy lunch in nature, so don't forget to take food and drinks with you!
Note – In the second part of the route, where you walk through the forest, follow the approximate route, but also look at the situation "in nature". If there are Private Property signs, do not trespass.
Route description
Nice walk with several interesting objects.
You will start the hike in Raiskums, going towards Auciems.
After walking quite a distance, you will reach Auciems, where you must visit the Auciems manor, the lake bridge and the old pub.
Next, around the Auciema lake, go forward where you will find several picnic places on the shore of the lake, where you can have lunch.
Continue along the lake, reaching Raiskuma lake, where you can see resin pines – this is how resin was obtained in the past!
At the end of Raiskuma lake, you will reach the iconic filming location of "A Limousine the colour of Midsummer's Eve". Keep in mind that you must book a tour in advance if you want to see the place where filming was done and to follow in the footsteps of the movie characters!
You will continue your way in the forest, follow the path for a short distance, and then follow the indicated route in route map. However, respect the borders of private property and evaluate the situation in nature! No trespassing!
The route will lead you through the forest, where you will reach the viewpoint at the shore of Gauja.
Go further through the forest and you will once again reach the shore of Gauja, where you can take the opportunity for another rest and food break.
The route will take you to the Kvepenes castle hill, where you will also see an impressive oak tree.
A long the way you must also visit the Kvepenes cave and water spring.
Then you will reach the small forest cave of Kvepene.
At this moment, the route is coming to an end, go back to Raiskums through the forest.
When your are back in Raiskums don't forget to visit the Raiskuma manor.